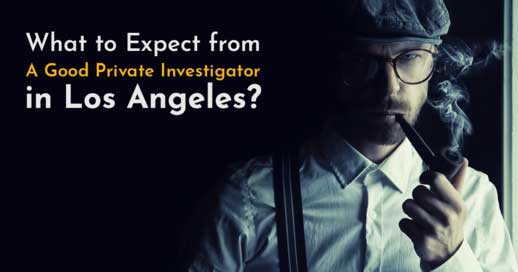 How can I find a good private investigator near me?
What is a "GOOD" Private Investigator anyway?
I need to hire a Private Investigator in Los Angeles, what should I look for?
A cheating spouse, a missing person in Los Angeles, looking for peace of mind with a Pre-Marital and Relationship Background check…Many situations might require hiring a private investigator. You can get several private investigators in Los Angeles, but getting the right one is one of the toughest challenges people face, and nobody will like to be spending money without reaping any benefits.
A good private investigator with good practice would treat every case brought to him or her in an ethical and professional way, maintaining accurate judgment and confidentiality. An effective private investigator should possess the necessary experience, skills, and tenacity it takes to pursue a case. Sometimes, it may require an investigator to take advanced training needed to go above and beyond to get the job right.
Finding a good private investigator in Los Angeles may take some research on your part. Some of the few expectations you need to have in mind when looking for a good Private Investigator in LA include;
A good PI should have the right set of skills
A good private investigator must have the necessary skills. You have to know that there is no private investigator that is ultimate. Private investigators from different backgrounds are bound to have different sets of acquired skills.
Performing thorough background checks and knowing the kind of skills they've acquired will guide you in making the right decision and this can make a lot of difference between the amount of information you will gather.

A good PI must be licensed:
A license is not just an identification card or a certificate, it is a proof that the private investigator has passed the required standard to be considered qualified to carry out a private investigation.
Before you make your choice, ensure that the PI license is still up to date with the licensing body within the area of operation. If the license is expired, it means they are no longer recognized as a private investigator that passed local standards, and you are better off looking for another PI.

Must show professionalism
Experience is an added advantage. However, it is not the only thing to measure success. Reputation and years of experience are both other factors in professionalism. Do they have a positive reputation? Have they been doing this long? High esteemed private investigators maintain a very high level of professionalism and integrity in their work.
A good private investigator keeps on building his or her credibility by acquiring other professional licenses. Licensed investigators are more likely to attain and retain business as a result of their commitment to continued education and professionalism.

Be responsive

Investigators are expected to handle cases efficiently. Most effective private investigators are skilled in managing their time effectively. This involves answering emails and clients' phone calls on time and keeping the communication line open to the parties involved. Clients satisfaction is directly correlated to the ability of the investigator to make him or herself available to the client whenever needed.

Ingenuity
With the use of technology, problem-solving ability has drastically increased. Private instigators now spend less time solving most of the problems using modern technologies and available information database systems.
But, there are other times when applying human discretion may be needed. When such occurs, the PI has to use his or her creativity. In such cases, the private investigator must demonstrate ingenuity.

Must show confidentiality
The confidentiality agreement that holds attorneys and doctors is different from that of a private investigator.
However, a good private investigator should be able to maintain a standard of confidentiality and be able to outline the steps that have been taken in carrying out his or her services and interaction with clients.

Must be tenacious
The saying "when the going gets tough, tough people get going" is an old saying that rings true for private investigators. Investigators likely face challenges along the process. The work of private is a very tedious one that may require you to work odd hours, but a good investigator never gives up no matter how tough the process is.

Must be passionate about the job
Investigation can be very stressful, frustrating, and can involve working during odd hours. One of the critical elements of identifying a good private investigator is passion. This demonstrates that the PI is willing and ready to deliver excellent results at all costs. This what our private investigators do for our clients.

Must be principled
An investigator must be trustworthy. Otherwise, nobody will trust his or her report? A principled PI ensures that he or she gives a clear and detailed cost analysis to the client before the commencement of a project. They don't spring surprises on clients. Don't' worry, if you are Kinsey Investigations's client, there is no chance that this will happen to you!
Let's say a project is going to involve traveling around during investigation. The private investigator needs to inform the client about such expenses before they occur.
A good number of investigators in LA need retainers or deposits before they start working. That's normal and not a sign of dishonesty.

Have to be friendly
A private investigator, most times, needs to collect information and data from society in general. Therefore, the private investigator should be able to interact, socialize and blend in. The ability to communicate with new people in a friendly manner is one of the key characteristics of a good PI.
He or she should be able to open up a conversation with any person. Beginning conversation itself resolves most of the work. When interacting with people, a friendly PI doesn't appear to be threatening to the people, so they reveal the information to the PI during the interaction process.
Conclusion
The private investigator you hire drastically determines the results you will get. I am sure you don't want to risk hiring an inferior investigator.
Taking your time to find the right private investigator in Los Angeles is the best practice so that you will not end up giving a good deal of money on an investigation and regret.
At Kinsey Investigations, we have the best private investigators, including law office inside investigators as well as former law enforcement officials, and we handle every case professionally using all the listed qualities. Our clients are our top priority. You can see here what they say about our services.

Do you need to hire a private investigator? Check out these articles first!
https://www.kinseyinvestigations.com/wp-content/uploads/2020/04/best-private-investigator-los-angeles.jpg
272
518
Kinsey Investigations
https://www.kinseyinvestigations.com/wp-content/uploads/2023/02/kinsey-investigations-private-investigator-logo.png
Kinsey Investigations
2020-04-06 09:22:56
2022-04-14 07:31:58
What to Expect from A Good Private Investigator in Los Angeles?