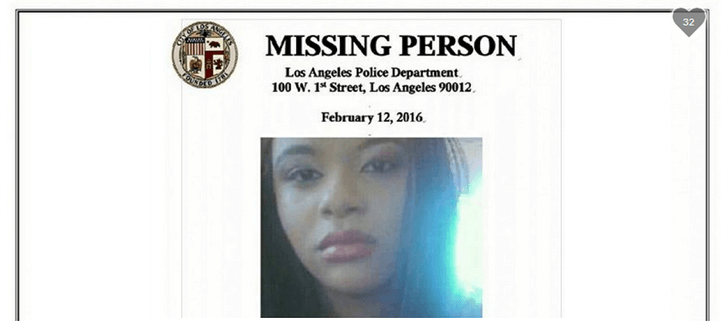 She always wanted to be in the entertainment industry, went to a school of arts for music. She takes a trip to her dream in Los Angeles and decides to stop in Las Vegas….she was never heard from again!
The 25 years old girl is now a missing person!
Two weeks go by…like all families with a missing child; the family doesn't know what to do….They think about hiring a private investigator in Los Angeles and decide to call Kinsey Investigations. The family did all they could to find their missing child and did everything right: They filed a missing person's police report, they pinged her last cell location. Her cell phone was off the radar but her father said the last text/messages said she was on her way to Los Angeles in a car….we don't know with who or how she got to LA or even if she made it to LA.
The father made several trips to Los Angeles to try to trace her last steps. Our investigators worked hand in hand together, with the father and aunt. Our leads led us to downtown Los Angeles, Korea Town, and some not-so-nice neighborhoods…
Then, we located her on 2/25/16! She was in East Los Angeles.
The girl was staying in a woman's shelter in East Los Angeles. She had been robbed, cell phone gone and mistreated. But now she was safe!
That phone call from our investigator in Los Angeles to the mother, the father, and the aunt independently was some of the best news our team of investigators could ever share.
On 2/29/16, our Principal investigator in Los Angeles received this text from the found girl's aunt:
"Barbara I would like to thank you for your service. D—- is doing much better; she is sooooo happy to be home. My Brother said when he picked her up she came out with her bag of clothes really fast smiling and jumped in his arms like a little kid. Once again thank you so much, the family appreciates all that you did to help find my niece."

Tracy Wilson-Jordan
Another testimonial from the same Client:
"I found the Kinsey Private Investigations agency to be very helpful. They simply get down to business and get the job done. They were reliable and precise. In our missing person case, the family had very little to go by, but every lead the family had in our missing person case, our PI, Barbara Wolford jumped on it right away!

She asked the right questions and no matter how unlikely the lead was, she checked it out for the family. She was our eyes and ears in the Los Angeles area. Barbara worked with the family and kept the family aware of what was going on, at all times which had positive results for our family.

We had her personal attention and for that and more the family says, thank you! Barbara Wolford of Kinsey Private Investigations. You are simply the best flying way above and beyond the rest.

Thank you for doing what you do so well."

Tracy Wilson-Jordan
Do you need to hire a private investigator? Check out these articles first!
https://www.kinseyinvestigations.com/wp-content/uploads/2019/09/Missing-Persons-Private-Investigator-Los-Angeles.png
321
727
Kinsey Investigations
https://www.kinseyinvestigations.com/wp-content/uploads/2023/02/kinsey-investigations-private-investigator-logo.png
Kinsey Investigations
2019-10-04 08:45:35
2022-04-14 07:18:38
Missing 25-year-old girl found in Los Angeles!