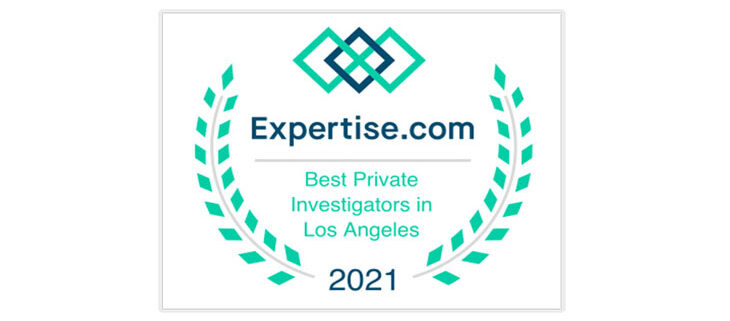 "Best Private investigators in LA 2021" Award!
Since the beginning of our journey, we were always committed to providing our clients with the best quality investigation' services, and we have strived to keep our standards high. So, it is encouraging to get positive feedback from our clients and be appreciated by the industry experts.
Today, we take great pride to share with you and celebrate together winning the "Best Private Investigators in Los Angeles" award by Expertise!
With over 1 million visitors monthly, Expertise is a top research and analysis agency that connects people with the top experts in their area.
Expertise is specialized in 200 different industries. Through thorough research and structured analysis, they look into various businesses and service providers and curate the top-performing ones to make decision-making much easier for people.
For many important daily services, whether Legal, Business, or Home services, Expertise provides valuable information and advice for consumers to help them choose the firm that will satisfy their needs. It is not always easy to find local experts in any industry, and it may take time that you can't afford. That is how Expertise comes in handy and gives you essential details to make your life easier.
But how do they do it? What are their criteria or selection process? Let's find out!
Selection Process:
Kinsey investigations were one of 935 private investigation companies in Los Angeles that Expertise looked into and eventually selected as one of the Top 25 Best Private investigations agencies.
Expertise scored these agencies based on 25 variables across five major categories to assess the quality of the services provided and the business' overall performance. Here is the breakdown:
Availability: This is to make sure that the agency is consistently available for its customers' requests. It shows the great work done by our team to answer requests promptly and never leave our customers hanging.
Qualifications: Expertise ensured that the firm has all the necessary licenses and accreditations and is still working on more certifications and awards. This helps to build customer confidence.
Reputation: This looks into reviews, feedback, and testimonials to make sure clients are pleased with our services. Take a look at what our clients said about us, and you'll be fascinated by the immense appreciation we are getting.
Experience: This area is to ensure that the agency has the right experts and knowledge to be on top of the industry. This is another indicator that we provide our clients with the best minds and tools to solve their cases and get them the peace of mind they seek.
Professionalism ensures that the business respects work ethics and deals with customers' queries with high standards. This category puts the spot on our outstanding moral code, which led us here and will lead us towards a brighter future!
You can read more about these criteria right here.
Based on these criteria, Expertise labeled our investigations' services as one of the best 25in Los Angeles. This proves our excellent dedication to providing outstanding investigation services, memorable customer experience, and of course, to get the job done perfectly.
It is an immense pleasure to receive such an honorable award from such an accredited party. This can only boost everyone's performance and push the whole team towards more glorious achievements.
What makes Kinsey Investigations so special to be on top?
As we have seen, Expertise has put the spot on all business categories that determine their services' quality. Since we ended up on top, it obviously means we were outstanding in all categories. In fact, our reputation is one of the key factors that makes us get on top every time.
Our loyal customers were always pleased with the results and how we handled their requests from the first moment we made contact. Check out what are customers said about us here!
Our team works hard to ensure that our clients get all the answers and handle their queries with great professionalism. We provide the large community of Los Angeles and California as a whole with the best investigations services in many areas, such as:
Covert Surveillance Operations &Stake-Outs
Family Investigations
Comprehensive Background Checks & Screening Services
Missing Person Locates and Skip-Tracing
Corporate Investigations
Retail Trade & Service Industry Integrity Checks (Mystery Shopping)
Service of Legal Process
And much more! Check out the full list of our services right here.
We are committed to serving our customers with full honesty and integrity. This is what helped us get such an amazing award and we will always continue to work hard towards greater achievements.
Check out the latest cases that we solved and read the full stories of how we got these results here!
Liked what you read? Keep reading more about our investigations services and how we can solve different cases here.
Do you have any questions or need help with a case? Get a free evaluation of your case, and one of our experts will let you know how we can help!
https://www.kinseyinvestigations.com/wp-content/uploads/2021/12/Best-Private-Investigators-in-Los-Angeles-Kinsey-Investigations-is-on-top-1.jpg
400
730
Kinsey Investigations
https://www.kinseyinvestigations.com/wp-content/uploads/2023/02/kinsey-investigations-private-investigator-logo.png
Kinsey Investigations
2021-12-01 02:18:22
2022-01-19 06:15:13
Best Private Investigators in Los Angeles: Kinsey Investigations is on top!