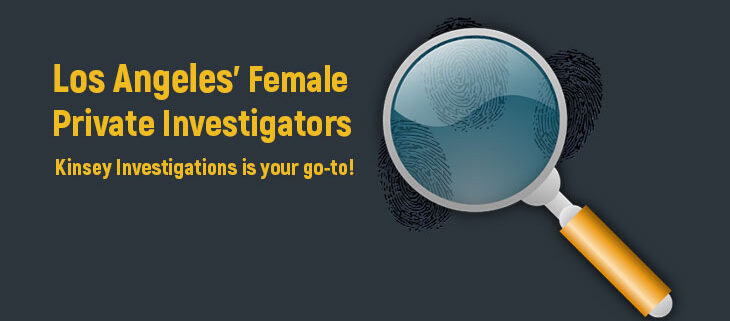 Women have entered into private investigations in what was once seen as a male-dominated world. We made significant progress and have had a substantial positive impact in law enforcement, military, and many other careers and doing the same in the private investigations world too! In this profession, women have many assets to create change and eliminate stereotypes.
At Kinsey Investigations, we pride our outstanding female PI's and their talent. Our specialists are fully capable of handling all cases, and we are confident in getting results. Our private investigators, male or female, have the right skill set and mindset to help you find the truth.
Kinsey Investigations deals with many inquiries and cases, whether from the general public or law firms and corporations. We usually get special requests and people who want to speak to a man/woman, and we are glad to answer! We put together a large, strong team of specialists all over California to serve this vast community with state-of-the-art services.
I couldn't tell you how many times the person on the other line, whether male or female says: "I'm so glad I'm talking to a woman"…. men just feel awkward telling another man about relationship problems, whether it is a spouse suspected of cheating or wants a wellness check done on a grown daughter or son.
We understand that the moment of calling a PI can be stressful. Just know that we are here to help. We commit to high values and standards, and we want you to know that all your information and personal data will never be disclosed. Everything we do is confidential. We promise professionalism & total confidentiality while working hard to solve your case. So, when you first reach us out, whether through our contact forms, phone or e-mail, feel free to ask for a female PI if that is more convenient for you. We get this type of request even from corporations and businesses, not just individuals.
If you want to know how and why a female private investigator can help your case? What sets women apart in this profession? And where can you find female private detectives in California? Keep reading!
A reliable team of female investigators who provide caring, professional, and efficient investigations services:
Trust is key in our industry. We aim to create the best relationship of mutual trust with our clients. Therefore, we offer a free evaluation to help us both start off right. We handle each investigation on an individual basis because each situation is unique. People call me all the time and say "what is your price list?" or "what are your prices?"Our response? We have different prices for different things. One person might want a background check on the person they are about to marry. Well, we suggest you also do a broad social media and public records search as well. Do they have a dating profile-this will find out. We ask questions of people of things they never even considered.
We have many tools to choose from and know to ask you specifics we need to gather what needs to fully explored. Please be certain that we care about your case and its unique characteristics and will work hard to nurture our business relationship to get the best results naturally.
Moreover, working in complete discretion is our motto. Our detectives work with absolute professionalism and confidentiality. Once we accept your case, we will in direct contact with you until it is solved, with any means of communication that you prefer. We want you to have the best experience with us and feel comfortable dealing with our investigators at all times.
Plus, we offer the best private investigation services in all of California at affordable prices. We are told all the time that our prices are reasonable.
Feel free to reach us out via phone or e-mail for a confidential, free of charge, and no-obligation consultation. We will assess your situation and needs and come back to you with an action plan and quotation that we hope will reflect the value of our work.
So how a female PI can help your case?
Women have a lot of natural and social attributes that give them an advantage over men in this field, such as:
Natural ability to read situations better
Women tend to blend in easily
Women are often more easy-going than men
Women perform better at surveillance (no one makes note of a woman following them!)
A woman PI is better at understanding and dealing with other men and women
We are great listeners
And much more! If you want to learn more about this, read this short article!
What kind of cases can a female PI help solve?
According to PI magazine, women only make up about 15% of the investigators' world. At Kinsey Investigations, we are proud to have 75% of our team as female PI's , enabling our clients and potential ones to have this preference. Our female PI's cover and handle any investigation. We understand that many people still believe that the investigations world is just for men, but we do not support this stereotype. These are some of the common cases our female detectives handle on a daily basis, for both corporations and individuals:
Other Investigations and Services Available:
The list above does not include all our services. We also provide a wide range of additional services to meet your needs. These include Public Record / Court Document Research & Retrieval and Legal Courier Services (available throughout Los Angeles, Orange, and Riverside Counties). We also conduct Asset Searches and provide Civil Litigation Support Services for attorneys and pro se litigants.
Learn more about our investigations' services right here. Call us today!
Why go with a female private detective?
Some women are more comfortable talking to another woman, especially when the case involves a lover, a potential cheating spouse, child custody, locating a past relationship… This does not apply only to women as we get this preference from men. Although all our team, male or female, are always professional and courteous, it is not weird or surprising when someone calls asking to speak to a female investigator. Even businesses and corporations sometimes ask for a woman PI, maybe because they tend to be seen as more compassionate and understanding. Plus, when it comes to sexual harassment cases, some corporations ask for a combination of both males and females. Regardless of the subject or caller, we focus on providing accurate answers and solving the case.
Read more about how females stand out in this profession right here!
For whatever reason you want to speak to a female PI, please do not hesitate to call us anytime. Our specialists will help you solve your case in any part of California. Our team, men & women, are highly skilled and will handle any investigation. We promise the best investigation services in all of California. Feel free to check out the reviews on any platform to get to know us better and the high quality of our work!
https://www.kinseyinvestigations.com/wp-content/uploads/2021/12/Los-Angeles-Female-private-investigations.jpg
400
730
Kinsey Investigations
https://www.kinseyinvestigations.com/wp-content/uploads/2023/02/kinsey-investigations-private-investigator-logo.png
Kinsey Investigations
2021-12-30 06:08:14
2022-02-25 06:56:22
Los Angeles' Female Private Investigators: Kinsey Investigations is your go-to!