Infidelity, Adultery
&

Cheating Spouse Investigations in Los Angeles
Kinsey Investigations has decades of combined experience in investigating and proving cheating spouse cases. Whether you call it a cheating spouse, infidelity, or adultery, we cover these cheating investigation cases in Los Angles and throughout Southern California. Cheaters don't reveal themselves quickly, making their spouses blissfully unaware that they are already engaging in transgressions. The relationship may look normal on the surface. Remember, they may have been untruthful to you for years, so they may be quite good at it by this point. They may act as a devoted parent or a loving partner at home. They find an excusable reason, like work, for not being home. Because cheaters are adept at hiding their true intentions, they can get away with what they are doing for years. However, there is no way they can hide their duplicity once our cheating investigations have begun. Our investigators are experts in revealing, finding, and documenting the truth.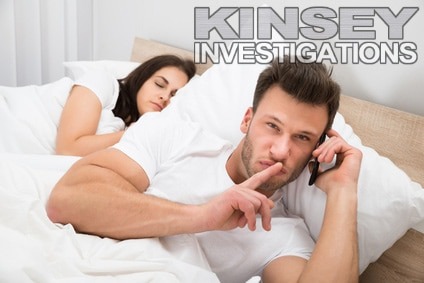 Kinsey Investigations: The Leading Experts for Infidelity Investigations and Surveillance in Los Angeles
If you suspect that your partner is cheating, you are probably right. Statistically, 85% of people suspicious that their partner is cheating on them turn out to be correct. If you suspect your partner of infidelity, call on Kinsey Investigations to help. We are experts in infidelity and cheating spouse investigations. Everyone from individuals to attorneys working on legal cases have relied on us for years to prove cheating investigations, cohabitation, and adultery allegations in Los Angeles and throughout Southern California. We are experts in covert surveillance operations and other specialized services that can help you detect and document infidelity, adultery, and cheating spouses quickly and efficiently.
We have the equipment and techniques to complement our vast experience and range of skills. These include hidden cameras, high-end still and video cameras, GPS tracking devices, and other state-of-the-art equipment. We are renowned for the thoroughness and care with which we approach our mission to identify, uncover, and prove suspicious activities. No matter the conditions, we can find a way to track our subjects and get the evidence you need to build an air-tight case.
Is Your Partner Showing The Following Signs?
Is your partner suddenly seeking more privacy than you are used to? Seeking privacy is the number one indication that your partner may be cheating on you. If your partner used to be very open about everything they do, the sudden need for privacy means they are keeping something from you.
Are they locking their cell phones with a secret passcode?
Are they working late hours without answering your calls?
Are they paying attention to their appearance more closely?
Are they shopping for new clothes and working out?
Are they having a different, less frequent, or more sex with you?
Are they asking about your schedule more often than usual?
Are there periods when your partner is unreachable?
Do the cell phone bills contain records of long calls?
Are the previously shared passwords changed suddenly and not being shared?
Is the internet history being cleaned regularly?
Do their clothes smell of perfume or aftershave?
Are they doing laundry independently?
Is their call and text history being deleted?
Have they installed new apps like WhatsApp or signal?
Does your partner have a new phone they don't tell you about?
Do they have unexplained receipts in their wallet or purse?
Is the mileage on their car higher, which doesn't correlate to the routes they take that you are accustomed to?
Are they using a phone card despite having a line you know about?
Do they leave the room when taking phone calls?
Do they have more cash in hand than they can account for?
Are they password-protecting their personal computers when they haven't done so before?
Do they have unexplained charges on credit card bills or bank statements?
Did they recently get a new account or debit card independent from you?
Is your partner suddenly hostile to you and your relationship?
Do they use their computer alone and secretly?
Do they minimize their computer screen when you enter the room?
Why is Kinsey Investigations the Most Qualified Cheating Spouse and Infidelity Investigator?
Even Other Private Investigation Companies Refer Us:
Kinsey Investigations is reliable and has served hundreds of satisfied clients and legal teams in Los Angeles and throughout Southern California. We assure you that we treat all the information that you provide and the information that we gather with confidentiality. You don't need to take our word for it. You can check our customer reviews to prove it.
We Have the License To Operate:
We are licensed to operate in California. You can verify the status of our license and find out if there are any cases against us by visiting the Department of Consumer Affairs website. A reputable private investigator will share their license number immediately upon request.
We Have the Right Experience To Fit Your Requirements:
We have the most qualified private investigators to take on the task you require. We have a youthful-looking team and not your typical suspicious-looking large men who people would normally question what they are doing there. Our detectives blend in. We have vast experience in the field that can cover any of your requirements. You can ask Kinsey Investigations about cases similar to yours that we have completed with excellent results. At Kinsey Investigations, we can share hundreds of successful cases.
We Are Insured for Any Form of Property Damage:
Kinsey Investigations is insured for any form of property damage that might occur during the course of our investigation. We have never had to use it, but rest assured, we are covered.
We Make You Feel Comfortable When You Hire Us:
We believe it is essential for private investigators to communicate well with their clients and make them feel comfortable in any way possible. We care for our clients, and we listen carefully from the moment you first call us. Our investigators are trained to carefully listen to our clients' stories, needs, and expectations.
Contact us today to learn more about our services and receive a FREE consultation. To schedule a FREE, NO-OBLIGATION case evaluation, just fill out our easy online request form.
Have a Private Investigator assigned to your case today. Your initial private consultation with our Private Investigator is free. From there, they will provide an outline of anticipated costs. At Kinsey Investigations, we pride ourselves on having complete transparency with all of our costs. Rest assured that when you work with us, our investigators will lay out all of our fees and expectations in a clearly written contract. A fee agreement and a retainer document are required. Ready to start? You can call our private investigators at (310) 613-3755.
Every case is unique, and there are specific services that you may have in mind. If you don't see the particular service you require on this page, please contact our office. Even if we don't provide that specific service, we can often suggest an alternative method of achieving the results you need. We can also refer one of our national or international associates who offer the service you require.