Fraud Investigations – Cons, Swindles and Scam Investigated.
What Is Fraud?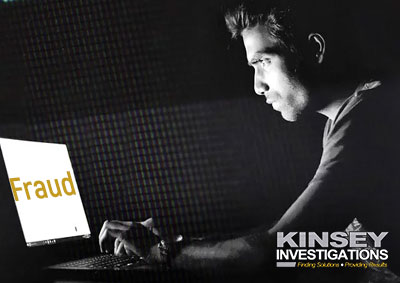 The key elements of fraud are these: intent, the misrepresentation or untruth, reliance on misrepresentation or untruth, and something of value obtained as a result.
To the average person, the definition of fraud is confusing by itself. Not only is fraud a complex and confusing crime, but also very difficult to prove. KINSEY Investigators have years of law enforcement experience dealing in fraud investigations. We have investigated and submitted for prosecutions fraud cases involving losses that vary from several thousand dollars to several million dollars. If we can be of assistance to you, please contact us for a free consultation.
The following is a list of the types of fraud that presently operate not only in the United States but worldwide:
Bank Fraud
Consumer Fraud
Contractor Fraud
Corporate Fraud
Elder Abuse Fraud
Embezzlement
False Credit Loan Applications
Forgery
Fraudulent Charities/Raffles/Drawings
Healthcare Fraud
Identity Theft
Insurance Fraud
Investment Fraud
Jamaican Fraud
Medicare Fraud
Money Laundering
Money Wire Transfers (Western Union, Postal Money Orders)
Nigerian Fraud
NSF Checks
"Online" Internet Fraud
Patent,Copyright,Licensing,Trademark Fraud
Piracy (Video, DVD,CD's, Satellite Broadcast)
Ponzi Schemes
Pyramid Schemes
Real Estate Fraud
Stolen Counterfeit Credit Cards/ATM Cards/Skimming/Scanning
Stolen/Counterfeit Checks
Tax Fraud
Theft of Trade Secrets (Intellectual Property)
Welfare Fraud
Worker's Compensation Fraud
---
This is what you need to know before hiring a Private Investigator in Los Angeles:
Get a referral for a Private Investigator
You will likely be sharing personal information with this person, and so it is essential to find someone that is really reliable and honest. Do as much research on the private investigator as possible. Please don't take our word for it. We are proud to share with you our customers' reviews here
Check the Private Investigator's license
The only states that don't require licensing for private investigators are Idaho, Mississippi, South Dakota, and Wyoming, and licensing is voluntary in Colorado. A professional private investigator will be able to give you their license number immediately. You should be able to know if any complaints have been filed against them. To verify our license in California, visit the Department of Consumer Affairs website here
Ask about your Private Investigator
To make sure your job gets done right by your potential Private Investigator in Los Angeles, find a detective who specializes in the task you need or look for a firm that has a lot of experience in different services like Kinsey Investigations. Ask about how much work they have done similar to what you want in the past and how those jobs worked out. At Kinsey Investigations, we will be glad to share with you hundreds of successful cases
Consider whether your Private Investigator has insurance
Most serious private investigators are insured up to a few million dollars. While it's not necessary for all jobs, if something were to happen during the course of the work, you, as the hirer, would be held liable if there was no insurance coverage for your Private Investigator in Los Angeles. At Kinsey Investigations, we are insured any form of property damage. An example: our investigator has gained access to an upstairs alcove in which to photograph from and the balcony breaks due to the weight, we are covered; another investigator goes through a gated area and breaks the gate, we are covered; in the course of our investigation, we are transporting some files and they are lost during the transport, our insurance would pay to reproduce those files.
Talk about confidentiality with your Private Investigator
You are very likely dealing with sensitive information when you are working with a private investigator and you need to be sure your PI will be discreet and respectful of information shared between the two of you. At Kinsey Investigations, we proud ourselves of working with several Hollywood stars and many important people in this country. One of the reasons they chose us over the competition is that we are discrete and we deliver!
Feel comfortable with the private investigator
If you don't feel like the private investigator communicates well with you or if they pressure you or make you feel uncomfortable in any way, you should probably choose a different private investigator to work with. Our investigators are specially trained to listen carefully to our clients' stories, needs, and expectations. We never go too fast or pressure you to do something you are not comfortable doing. At Kinsey Investigations, we simply care!
Get a contract with your Private Investigator
Your initial consultation with a private investigator should be free, and from there, they should be able to outline anticipated cost. At Kinsey Investigations, we proud our self for our transparency policy so hidden costs are ever involved. If you choose to follow through with the work with us, our investigators make sure all fees and expectations are clearly outlined in a contract. They also give you a fee agreement or retainer to sign. Ready to start? Call us now at (310) 613 3755
Contact us today for more information and a FREE consultation, or complete our easy online request form to receive a FREE, NO OBLIGATION case evaluation.
If you don't see the specific service you require on this page, please contact our office. Even if we don't provide that particular service, we can often suggest an alternative method of achieving the results you need, or in some cases, we may refer you to one of our nationwide or international associates who offer the service you require.