Fraud Investigations – Cons, Swindles and Scam Investigated.
What Is Fraud?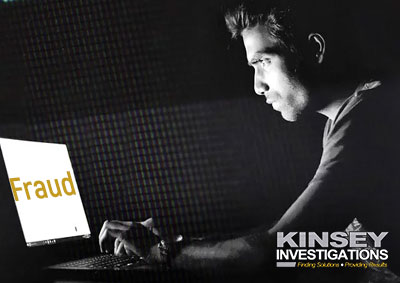 The key elements of fraud are these: intent, the misrepresentation or untruth, reliance on misrepresentation or untruth, and something of value obtained as a result.
To the average person, the definition of fraud is confusing by itself. Not only is fraud a complex and confusing crime, but also very difficult to prove. KINSEY Investigators have years of law enforcement experience dealing in fraud investigations. We have investigated and submitted for prosecutions fraud cases involving losses that vary from several thousand dollars to several million dollars. If we can be of assistance to you, please contact us for a free consultation.
The following is a list of the types of fraud that presently operate not only in the United States but worldwide:
Bank Fraud
Consumer Fraud
Contractor Fraud
Corporate Fraud
Elder Abuse Fraud
Embezzlement
False Credit Loan Applications
Forgery
Fraudulent Charities/Raffles/Drawings
Healthcare Fraud
Identity Theft
Insurance Fraud
Investment Fraud
Jamaican Fraud
Medicare Fraud
Money Laundering
Money Wire Transfers (Western Union, Postal Money Orders)
Nigerian Fraud
NSF Checks
"Online" Internet Fraud
Patent,Copyright,Licensing,Trademark Fraud
Piracy (Video, DVD,CD's, Satellite Broadcast)
Ponzi Schemes
Pyramid Schemes
Real Estate Fraud
Stolen Counterfeit Credit Cards/ATM Cards/Skimming/Scanning
Stolen/Counterfeit Checks
Tax Fraud
Theft of Trade Secrets (Intellectual Property)
Welfare Fraud
Worker's Compensation Fraud
---
Contact us today for more information and a FREE consultation, or complete our easy online request form to receive a FREE, NO OBLIGATION case evaluation.
If you don't see the specific service you require on this page, please contact our office. Even if we don't provide that particular service, we can often suggest an alternative method of achieving the results you need, or in some cases, we may refer you to one of our nationwide or international associates who offer the service you require.