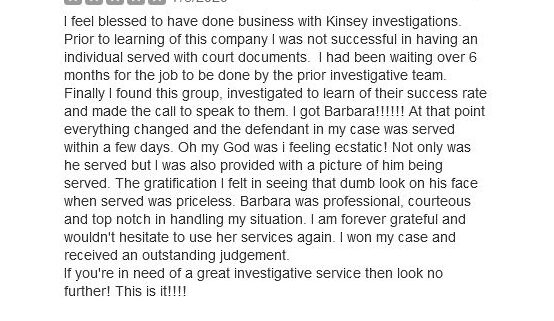 We're not shy about saying Kinsey Investigations offers the best California private investigations services, but we don't want you to take our word for it. And sure, at the end of last year, we were rated Best Private Investigators in Los Angeles by Expertise.com. Still, the voices we hope you'll listen to are those of our past clients. Our results speak for themselves, and our clients and industry partners are even more outspoken about our stellar track record than we are.
In fact, Kinsey Investigations has made our name in communities like Brentwood, Bel Air and Long Beach by succeeding for our clients, even when others have failed. It's why some other private detectives in Los Angeles and the surrounding area refer certain types of cases to us. It's also the reason that, in the cases where we weren't the first firm called, we're almost always the last.
Take, for example, a former Kinsey Investigations client in Florida who needed someone here in California served with court papers. Prior to calling us, she'd been working with another firm for six months, just waiting for results.  Once she contacted us, we were able to find and serve the individual in just a few days! She won her case and received a judgement she was very happy with.
Our clients leave reviews like this on Yelp, Google and Facebook just to name a few. And of course, not every case involves serving someone. Sometimes families reach out to Kinsey Investigations to find or just check up on their loved ones.
A Google review we received a few months ago tells one of these stories from a family in Kentucky. They were concerned for their aging aunt who lived alone in West Los Angeles. After they contacted us, we opened our investigation the very next morning and were able to find their aunt (we discovered her telephone had been off the hook without her knowledge) and arrange for her to speak with them right away to put their minds at ease.
Happily in that case, it turned out our client's loved one wasn't missing after all, but in terms of locating missing persons in Los Angeles and beyond, we also have an untarnished record. We have successfully solved every case we've been hired for, whether they were long lost friends, heirs that families had fallen out of contact with or endangered runaways. In the more urgent of these investigations, every minute counts, because as we've said before, the longer a person is missing, the more endangered they often become. No matter the circumstances, we act quickly and can usually find the person within a few days or even sooner. A review on Google from three years ago says, "Kinsey Investigations was right – they can find anyone."
L.A. Private Investigator Recommended by Clients and Colleagues
While no one wants to be in the situation of needing to hire a private investigator more than once, we do get repeat clients from time to time. One of these, a property management company left a Google review last year thanking us for helping them with several cases. They said, "We were very impressed with the work of Kinsey Investigations. Barbara and her team are professional and were always available whenever we needed any information."
More often, however, the people we end up working with more than once are other legal industry professionals including lawyers, judges and even other P.I.s. We've developed a positive rapport and working relationship with many of them, to the point that we get good reviews and client referrals from them:
One of these was a Google Review about three years ago which read, "I am an attorney and have retained Kinsey Investigations for multiple cases.  They are there when I need them and have always been able to get me the information that I need quickly!"
Another example is a 2018 review from a fellow P.I. in Mission Viejo, California. She wrote on Yelp, "I am a private investigator and needed assistance with the service of divorce paperwork for one of my clients. This firm was very professional and expeditious in assisting with the service of the court documents on Thanksgiving Day for me."
Finally, a review on Yelp at the end of 2018 read, "As an attorney, I have had the opportunity to work with several investigators in my career. None have been as professional, courteous and efficient as Kinsey."
Thank You!
Thank you to all the clients and industry partners who've helped us build our positive reputation in these communities. Your recommendations and referrals mean so much to us, and we hope they help others who need our services find their way to us even sooner.
https://www.kinseyinvestigations.com/wp-content/uploads/2022/09/Yelp-Review.jpg
416
554
Kinsey Investigations
https://www.kinseyinvestigations.com/wp-content/uploads/2023/02/kinsey-investigations-private-investigator-logo.png
Kinsey Investigations
2022-09-13 16:59:22
2022-09-13 17:48:07
Best Private Investigators in L.A. - But Don't Take Our Word For It