Cell Phone Forensics in Los Angeles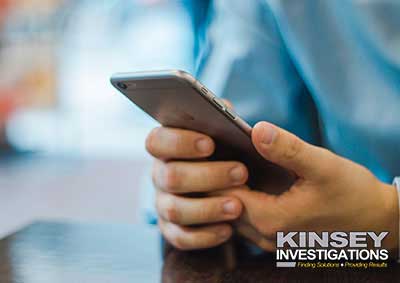 On average, three out of every four adults in the United States own a cell phone. Today, people use their cell phones for everything from phone calls and text messages to taking photos and searching the internet. When properly gathered, reviewed, and documented, evidence from a mobile phone or its data can save investigators time. In fact, it can even make or break a court case.
Because people don't generally think twice about how they use their phones or to cover their tracks when it comes to mobile usage, a great deal of information can be recovered from a mobile device. When you know how and where to look, the data can uncover where they have been and who they have been talking to. Additionally, their photos can often reveal the real narrative of what they have done.  
Some information we look for:
Which cell towers handled a call, SMS, multimedia messaging content, or internet browsing data
The geographical location of and time when specific calls were made
The geographical location of the cell phone at its latest location
The type of call and the number contacted. We can also trace the numbers from incoming calls, including missed call history.
The phonebook or contact lists
Videos, pictures, and audio files
The actual metadata of a photo
To-do lists, calendar entries, notes
Internet browsing history, cookies, search history, content, and analytics information
User-created data such as documents, presentation files, spreadsheets, and more
Data from installed apps
Deleted data from the sources mentioned above
Software for extracting and visualizing data found on tablets, smartphones, and other devices has dramatically improved. These recent developments are giving investigators added capability to solve cases quickly. Combined with the support of experts, investigators are now looking into the analysis of cloud data, computers, and network traffic.
Collecting evidence without the proper training and experience may render it useless for a court case. If you want mobile data evidence to be admissible in a court case, you should always consult a competent and experienced expert. The Cell Phone Forensics team at Kinsey Investigations always follows best practices and legal requirements to ensure that the evidence that we collect for your case is admissible in court. This is how we continuously provide favorable outcomes for our clients.
Process Used for Cell Phone Forensics
Seizure of Device: This ensures that evidence is always adequately preserved and admissible in court. Digital forensic experts always consider the legal implications regarding the confiscation of mobile devices. Digital forensics experts can overcome lock activation and network or cellular connection issues.
Identification of Device and Acquisition of Data:
This process aims to retrieve the data from the mobile device. Our digital forensic experts can adapt to the ever-changing digital landscape to retrieve the data. Data synchronization can bridge the gap between hardware and software.
Examination and Analysis:
The examiner will use various forensic tools to extract and analyze the data from different devices.  Because of the wide variety of device types and operating systems, each device presents a unique challenge. However, our investigators rise to the occasion. Our digital forensic experts can now do timeline and link analysis that uncovers the hidden connections within the data that can be instrumental to solving your case.
Kinsey Investigations and our expert partners can conduct computer and cell phone forensics. The application of our services does not end with criminal investigations. We can also help companies recover vital information from data storage devices.
Our combined experience and expertise can help investigations obtain vital data by recovering and analyzing evidence from:
Data Recovery
Flash Drive Recovery
Hard Drive Recovery
RAID (multiple hard-drive systems) Recovery
Hard Drive Repair
Emergency Data Recovery
SSD Data Recovery
Deleted or Formatted Data Recovery
Apple Mac Recovery
Data Analysis
At Kinsey Investigations, we are known for our efficiency in helping solve cases. Whether it is for a crime, settling issues surrounding Family Law, Adultery & Cheating Spouse Investigations, and Fraud Cases, identifying a stalker, or any other type of investigation, we can use cell phone forensics to get the evidence and records that can help solve these cases.
____________________________________________________________________________
Contact us today to learn more about our services and receive a FREE consultation. To schedule a FREE, NO-OBLIGATION case evaluation, just fill out our easy online request form.
Have a Private Investigator contracted to your case today. Your initial private consultation with our Private Investigator is free. From there, they will provide an outline of anticipated costs. At Kinsey Investigations, we pride ourselves on having complete transparency with all of our costs. Rest assured that when you work with us, our investigators will lay out all of our fees and expectations in a clearly written contract. A fee agreement and a retainer document are required. Ready to start? You can call our private investigators at (310) 613-3755.
Every case is unique, and there are specific services that you may have in mind. If you don't see the particular service you require on this page, please contact our office. Even if we don't provide that specific service, we can often suggest an alternative method of achieving the results you need. We can also refer one of our national or international associates who offer the service you require.