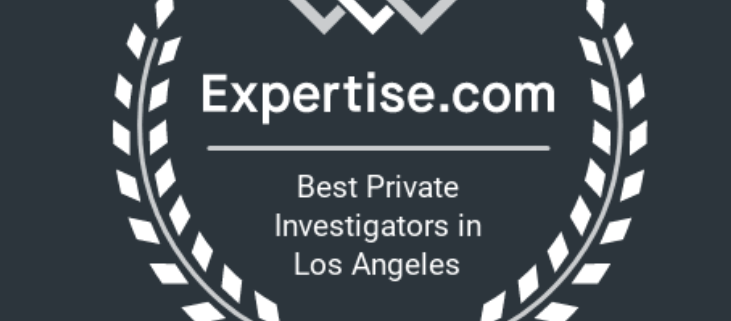 Kinsey Investigations has made Expertise.com's 2023 list of Best Private Investigators in Los Angeles! With so many private investigations firms in Los Angeles and the surrounding area, we know the competition was stiff. As a woman-owned private detective agency with a team of female private investigators, we're eager to use this distinction to encourage even greater acceptance of women in this traditionally male-dominated industry. Having first received this honor in 2021, we're excited to be included for a second time and acknowledge how closely Expertise.com's criteria for this recognition match up to the standards we have set for ourselves in our commitment to being a top California private detective service.
Kinsey Investigations has been named among the 2023 Best Private Investigators in Los Angeles by Expertise.com. Based on careful criteria including licensing, online reviews and mystery shopper calls, Expertise.com identifies the very best providers across a wide range of industries and areas in the United States. For 2023, Kinsey Investigations made the list for the best L.A. private investigations firms – again.
You may remember that we were also recognized by Expertise.com in 2021. The fact that we've made the list a second time only underscores our ongoing commitment to excellence. We've told you before, you don't have to take our word for it. For this year's listing, we received a reputation score of 4.9 out of five stars, based in part on our Google and Yelp reviews. With more than 100 five-star online reviews, we easily cleared this bar.
We also scored a perfect five out of five stars for Expertise.com's professionalism rating. This is the part of the score based on how well we performed when mystery shoppers called and spoke with our office. This rating includes sub-categories for friendliness, responsiveness, helpfulness and attention to detail. We're proud to say we received five stars in each. That's because our professional team of female private investigators are dedicated to treating everyone who calls our offices with courtesy and respect. We really care about our clients and would expect no less of ourselves.
And of course, we have always kept up to date with state licensing requirements. In California, private investigators are licensed by the Department of Consumer Affairs' Bureau of Security and Investigative Services. We publicly display our license number (28192) on our website and always openly encourage anyone to check on the status of our license at any time. The Bureau keeps a list, and you'll always find ours current and in good standing. As a licensed and insured California private detective agency, we are legally allowed to work anywhere, all throughout the state.
While some Los Angeles private detective agencies choose to specialize in only one or two types of private detective services, Kinsey Investigations is a full-service agency. Whether you need something simple like a quick welfare check or court documents served or something more involved such as locating missing persons in Los Angeles, infidelity investigations or child custody investigations in L.A. and the surrounding area, Kinsey Investigations is your go-to. Not only do we have an impeccable track record in all these types of cases, but our female private investigators give us unique advantages in so many private investigations services. Blending into all kinds of environments, naturally putting people at ease and drawing less suspicion are all benefits of working as a female P.I. We take full advantage of these circumstances to do the very best work for our clients.
In 2021, we were thrilled to make Expertise.com's list including the best L.A. private investigators for the first time. Making it again in 2023 reflects the level of excellence we continually expect of ourselves. If you live in the greater Los Angeles area and are wondering "Who's the best private investigator near me?" or even "Who's the best female private investigator by me?"- well, once again, you don't have to take our word for it. You can find our listing on Expertise.com.
https://www.kinseyinvestigations.com/wp-content/uploads/2023/02/best-private-investigators-los-angeles-2023.png
504
731
Kinsey Investigations
https://www.kinseyinvestigations.com/wp-content/uploads/2023/02/kinsey-investigations-private-investigator-logo.png
Kinsey Investigations
2023-02-28 13:44:39
2023-03-06 10:55:45
Kinsey Investigations Female Private Investigators Ranked the Best - Again